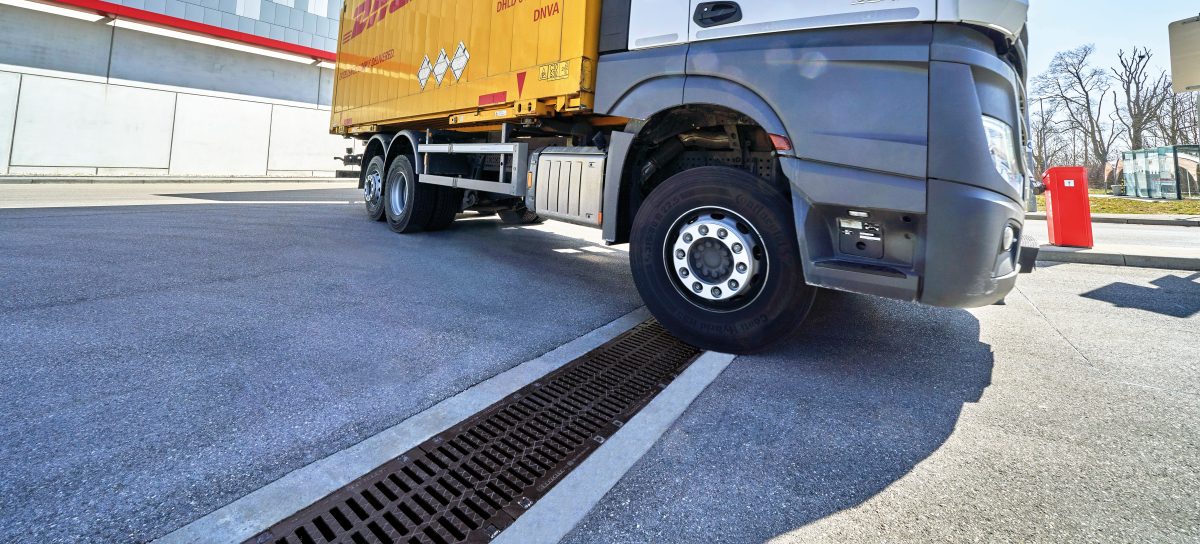 Industrial drainage for warehouses & distribution centres
Industrial units, warehouses and distribution centres run a 24/7 logistics operation to enable the distribution of goods locally, nationally and internationally. Countless heavy goods vehicles (HGVs) and forklifts constantly traffic storage areas and external yards. These facilities can easily account for over 100,000 m² in surface area.
Industrial drainage systems must be robust enough to cope with extreme loads and dynamic forces imposed by the high volumes of heavy-duty traffic. If facilities have a extensive area to drain, a system with a large hydraulic capacity should be taken into account.
Requirements
for an industrial drainage system
What characteristics should a drainage system have to guarantee a smooth operation?
1. Capability to cope with heavy loads and dynamic forces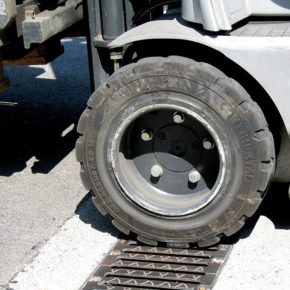 Industrial /logistic facilities can create a very demanding environment for surface drainage systems. Constant traffic by HGVs and forklifts impose immense pressure and force on the channels/gratings.
Linear drainage is not only exposed to heavy loads but also dynamic forces caused by vehicles braking, turning and accelerating when trafficking the surface area.
System design, materials and installation needs to be strong, highly stable and secure in order to withstand the present heavy loads and dynamic forces.
2. High capacity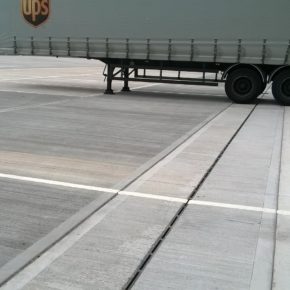 Industrial and logistic facilities are ever-increasing in size and scale to achieve cost-effective and efficient production and distribution.
For cost-efficient and reliable drainage of extensive external surface areas, high-capacity channel systems are increasingly preferred to achieve savings for the client regarding installation of drainage in operational areas.
3. High flow rates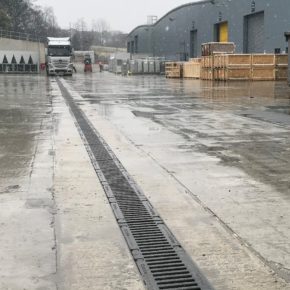 Extensive areas can generate high volumes of surface water.  Unpredicted heavy rainfall can overwhelm drainage systems if they are not designed to accommodate climate changes.
Surface drainage systems require efficient intake and appropriate channel sizing through accurate hydraulic calculations to ensure the surface area will be effectively drained and maintain profitable operations for the client.
4. Contaminated surfaces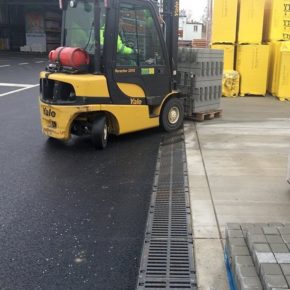 Industrial surface can become contaminated during day-to-day operations. Tyre wear (microplastics), brake dust, fuel hydrocarbons as well as petrol, oil and other contaminants can be present on the surface without any knowledge.
A combined drainage and filtration system can treat surface water at source, before it is released back into sewer systems or watercourses.
"With so many large industrial areas being built, it is essential that surface water drainage is handled effectively to prevent flooding. We can assist with the design process, conception to completion and value engineering options to ensure the best drainage solutions for any situation".
HAURATON have a range of heavy-duty drainage systems ideal for coping with the demanding environments of civil engineering projects. Click here to find information about our products.
Industrial drainage solutions from HAURATON
When choosing the correct system for your project, it can be quite overwhelming. There are many factors to consider regarding the design and installation, for example heavy loads, frequency of traffic, storm events, local planning and client requirements.
HAURATON has the experience to provide the most appropriate and cost-effective solution to meet your project requirements. Close and comprehensive technical support is available during all stages of the project, from early planning and design, on-site installation and maintenance advice. Get in touch to discuss your project.
High capacity slot drain: RECYFIX HICAP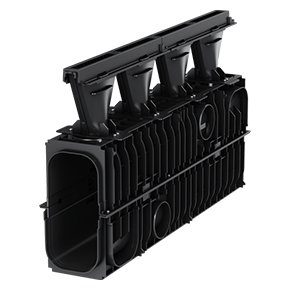 RECYFIX HICAP is a high capacity slotted channel system that transports large volumes of surface run-off  into existing sewers or attenuation from extensive catchment areas. The channels are manufactured from recycled composite and fitted with a retained grating in durable spheroidal ductile iron.
The monolithic system, installation and narrow grating design gives superior resistance to dynamic forces and ultra heavy-duty loads

Corrosion and impact resistant

Pre-assembled and lightweight (complies with one-man-lift legislation) for quick, simple installation
For extreme loads situations: FASERFIX SUPER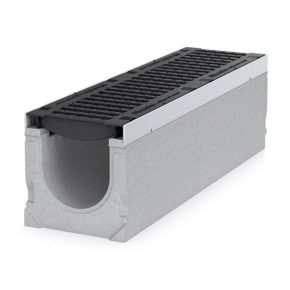 Manufactured from fibre-reinforced concrete with a durable angle housing, FASERFIX SUPER has a proven structural design for superior resistance to dynamic forces and extreme loads. Therefore, it is an ideal heavy-duty channel for industrial areas, warehouses and distribution centres.
40mm deep channel angle housing and grating (up to 20mm thicker); design resists longitudinal and lateral movement

Gratings securely fixed with 8 bolts per metre (achieves 16 locking points over one unit for extra strength and safety)

Thicker channel body wall dimensions for strength and durability

High drainage cross section and hydraulic performance
Heavy-duty recycled composite channel: RECYFIX NC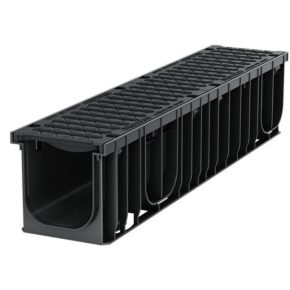 RECYFIX NC combines heavy-duty loading capability with practical design for long-term high performance. The channel has a recycled composite angle housing incorporated within the channel body structure which provides durability and resilience at the surface when trafficked. Heavy-duty slotted gratings (spheroidal ductile iron GJS 500-7) are securely bolted within the angle housing (eight steel bolts per metre) for extra strength and safety.
Channel body made from recycled composite for high impact and corrosion resistance

Pre-assembled, lightweight units for quick and easy installation

Suitable for load class up to E 600

Torsion-free ribs and concrete anchors for additional structural integrity
Surface water treatment: DRAINFIX CLEAN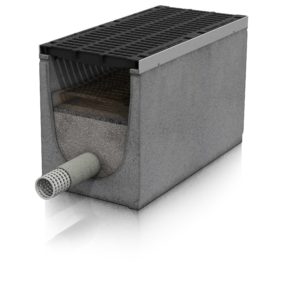 The DRAINFIX CLEAN filter system is the ideal solution to treat polluted surface water run-off. Pollutants and fine particles are captured and retained within a carbonate-rich filter substrate, allowing the cleaned water to be released back into a natural watercourses or sewer systems.
Withstands loads up to F 900

High water retention capacity for effective cleaning performance, even during heavy rainfall events

Strong and durable with high material resistance to frost, salts, chemicals, extreme temperatures and UV light

Extremely low maintenance requirement
For safe and secure cable routing: SERVICE CHANNEL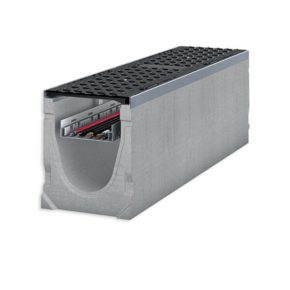 The SERVICE CHANNEL provides safe and practical cable management within industrial units and exhibition halls. Cables and wires can easily be threaded into the channel and accessed as and when required. Furthermore, the SERVICE CHANNEL can withstand the frequency of high dynamic forces when trafficked.
Temporary or permanent management of cables and wires

Channels available in recycled composite (polypropylene) or fibre-reinforced concrete for medium to heavy-duty applications

Solid covers in ductile iron with removable cable inlets for quick and efficient access

A range of channel widths and depths to suit project requirements
Application areas that may also interest you